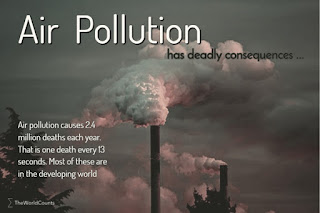 Dealing with Air Pollution
Air pollution threatens the health of not only humans but also of all other living beings. There are many kinds of pollution, but the ones that have the most impact to us are air and water pollution. Air pollution is a major threat now a days in Delhi. Although this is a temporary problem, still we have to be careful because all of us are exposed to the environment.
The reason to increased cases of lung diseases like Asthma, COPD, Bronchitis, Allergic Cough etc. is air pollution. Polluted air has a direct impact on our health. The air pollution issues occurring now is due to the climate change. The stagnant air along with pollutant particles creates smog which is very dangerous to health. The major air pollutants are suspended particles in the air measured as PM 2.5 and PM 10, Ozone, Oxides of Nitrogen, Carbon Monoxide, Lead and Sulphur Dioxide.
When the pollution is more it irritates your eyes throat and nose, also causes headache or heaviness of head, suffocation, sneezing, allergic reaction etc. which are the short term effects. Long term effects are more serious health problems like lung cancer, heart diseases and even damage to brain nerves, kidneys or liver. Children, pregnant women, old age people are the most affected with air pollution.
Air pollution seriously effects the immune system of the body and reduces the immunity of a person and also causes toxins to accumulate in the body.
How Ayurveda Can Help
Ayurveda can be a helping hand in dealing with detoxification. Massage treatments along with internal medicines detoxifies the body and strengthens the respiratory system. According to the theory of Ayurveda, Massage techniques brings the toxins to the Koshta (Stomach) and from there we eliminate the toxins by doing Panchkarma therapies like Vamana, Nasya, Vasthi and Virechana.
=> Vamana is a Vomiting therapy in which the person is made to take certain medications after proper preparatory stages and is made to vomit. Vamana therapy is specially good for respiratory system as it is a cleansing therapy for Kapha Dosha which is the main dosha related to respiratory system. Thus doing Vamana is the best way to detoxify your body.
=> Nasya is a method of nasal instillation. We use medicated oils for doing nasal instillation after doing preparatory measures, which helps in cleansing of the whole upper respiratory tract, Sinuses etc.
=> Vasthi is the therapy in which enema is done with oils, medicated decoction, water etc. It helps to eliminate the toxins that are brought to the stomach. This therapy is done after proper preparatory measures and also has dietary restrictions.
=> Virechana is a purgative therapy in which medicines are given orally for the purpose of detoxification and cleansing. In this therapy patient will get good bowel movement (dosage depends on the strength of the patient, age etc.) which helps in detoxification.
We also include steam bath in the detoxifying treatment to clean and detoxify the largest organ of the body, the skin. Skin is also affected as it is directly exposed to the pollution. So it is necessary to detoxify and pamper your skin too. Steam bath initiates sweating by which the pores of the skin opens and the toxins are eliminated through sweat.
Internal medicines boosts the immunity of the body, rejuvenates and protects the respiratory system and detoxifies the whole body systems and increases the general health. We have special medications like Kashayams, Lehyas, Choornas, Arishtas etc. to serve the purpose. The periodical intake of this medicines help a person's body to get rid of respiratory diseases and allergies. They can also be used to prevent from catching with infections.
Home Remedies
* Drink plenty of water.
* Try to take warm water
* You can drink tender coconut water, Lemon juice, Fresh Juices etc.
* Take fresh fruits
* Do daily pranayam
* Do daily Oil massage (Abhyangam)
* Drink warm milk with a pinch of Turmeric powder
* Eat Jaggery 3-5gms once or twice daily.
· Drink Tulsi tea instead of normal tea.